Ross Dhu Equestrian Ltd: Our Yard
What do we offer?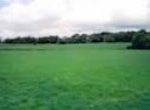 Ross Dhu Equestrian Ltd has been custom built and designed from scratch. This has given us the opportunity to think of design purely from the horse's point of view and to try to incorporate the best from traditional accommodation and alternative accommodation.
Horses do like to be able to see as much as possible and are by nature claustrophobic. Taking this into account we have designed our yard to give the horses the optimum panoramic view of what is going on. The shelters look directly out over the schooling areas and the main summer grazing fields.

For those horses or ponies who like their grass so much that it has to be restricted we do have smaller paddocks available which are also useful for the "difficult to catch in summer because the food is so good" types. We maintain our land with a comprehensive management system geared specifically towards the horse's needs. This system also tries to fit in with natural land management to encourage wild life and wild fauna to grow and develop in harmony with our grazing. Natural pest controls such as buzzards, hawks, kestrels, owls, foxes and weasels are encouraged and a special habitat of ancient oak woodland is set aside to accommodate our useful allies.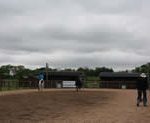 We provide an all weather, floodlight riding area for full use of our liveries and clients along with a round pen with an all weather surface. There is also extensive off road riding available where you need never ride in traffic again. As we know, our horses are very nosey animals and like to watch what is going on. Again, taking this into account we have designed the shelters to look out over the working areas so no one feels left out.  We have recently built an additional outdoor school and extra round pen with further developments planned for later this year.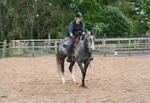 Both the new arena and the new roundpen are part of the continual development process we undertake here at Ross Dhu Equestrian Ltd, always striving to improve our facilities.
Horses that are being worked in the school or pen can see what their friends are up to in the fields or in the shelters. No horse feels utterly isolated so stress is at a minimum. The shelters themselves have tried to combine the best of both traditional and natural ideals. Each block has two shelter units which can accommodate one pair of "buddies".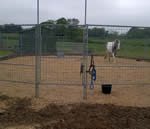 We all know that our horses have their own best friends and that these alliances can sometimes change. These shelters give each horse the opportunity to have their friend of the moment beside them, should the alliances change, then so too can the buddy boxes.
This means that each horse has the minimum of stress put on him or her if they have to be confined for any length of time, as they only have to put up with one horse next door. Each shelter is 14ft x 28ft and is divided by slip rails. This gives an open and spacious interior allowing physical contact whilst keeping separation for safety (even the best of friends argue over good food).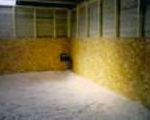 Automatic watering systems and specially designed low level feed troughs and hay racks also allow for feeding in the most natural position, aiding digestion and correct dental wear.
Each buddy block can be quickly made into one complete unit by removing the slip rails. This can provide a superb foaling box or if a horse requires long term confinement due to injury or illness then a buddy box can be a spacious home.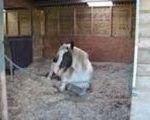 Our aim is to constantly improve our facilities to accommodate our equine friends and meet each individuals needs. We will be holding courses in the summer and full details of these will be posted as soon as possible and advance bookings are recommended, as spaces will be limited. We hope you have enjoyed your tour of our yard and look forward to seeing you in the future.
Kind regards and happy riding.